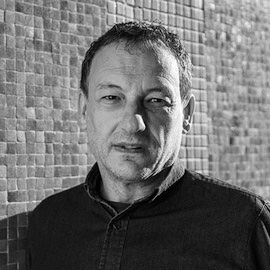 ƒ Mariana Castel
E-Mail

Phone

Address

Website

Facebook

x dot alamany at grafic dot info > @

(+34) 677 713 203

Mímica, 1, 4t, 4a. 08035 Barcelona

www.grafic.info/alamany > W

www.facebook.com/x.alamany > W

Xavier Alamany is a graphic designer based in Barcelona.

EHEA Master's Degree in Art and Design Research (UAB).

Professional and research activity
He founded the Propaganda studio with Enric Jardí and other partners in 1992.
He currently works as a freelancer in institutional communication, corporate image, signage and publishing design.
His preferred fields are society, culture and corporate culture.
Attached to Eina research team Design Processes.
Member of the creation and management team for the Festa del Grafisme, alternative graphic design festival at Portbou (Girona).
He has collaborated with the Papermind collective.

Clients
Public bodies
Generalitat de Catalunya
· Dept. de Cultura: Servei de Publicacions; Gabinet de Comunicació; Patrimoni Cultural
· Dept. de Salut: Hospital General Vall d'Hebron
· Dept. de Presidència: Premi Internacional Catalunya; Premi d'Ecologia R. Margalef
Diputació de Barcelona
· Servei de Publicacions de la Diputació
· Àrea de Cultura: Centre d'Estudis i Recursos Culturals
Ajuntament de Barcelona
· Diverse boards and services
Private business
CosmoCaixa
ERCO Lighting GmbH
Sàpiens Publicacions SCCL
Ara Llibres
Corporación Planeta: Editorial Planeta, Altaya

Teaching
Universities
Eina Centre Universitari de Disseny i Art, attached to the Universitat Autònoma de Barcelona (1986–presently).
ESDAP Catalunya Campus Llotja (2017-presently).
IDEP Escola Superior de Imatge i Disseny (2006 and 2013–presently).
University of Northumbria at Newcastle, School of Design (United Kingdom) (occasionally from 1992 to 2008).
Elisava Escola Superior de Disseny i Enginyeria – UPF (2010 and occasionally).
Subjects
Final Degree Projects, Final Master Projects, Research Methodology, Design Management, Graphic Identity, Graphic Production, Web Design.


Curating
Gràfica vernacular hortofrutícola. Exhibition on fruit and vegetables wood box graphics. Barcelona, 2019 and Portbou, 2015
Targeta roja. Exhibition on business cards. Portbou, 2008
Festa del Grafisme. Communication (2008-2010).

Book
Another Little Book printed in Black and Red (Barcelona, 2009. ISBN 978-84-613-1658-8).

Awards
LAUS Award 2018
Anuaria Awards (2012, 2011, 1995, 1994 and 1993).